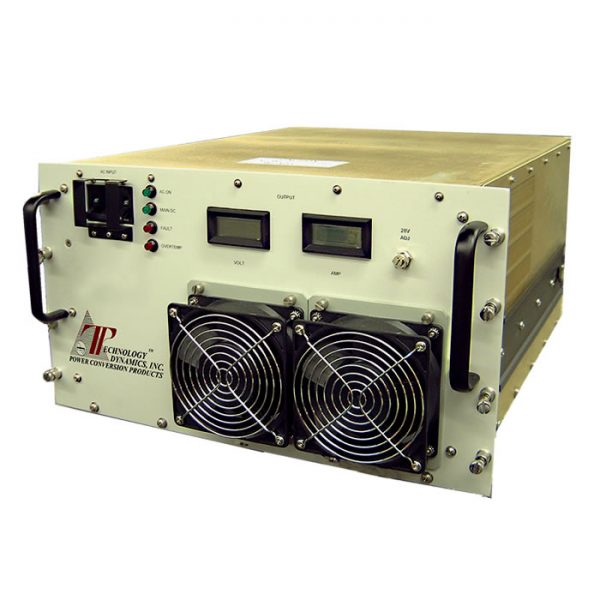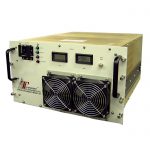 AC-DC Switching Power Supply, 10,000 Watts, HPRM SERIES
Rugged construction for vehicular use.
Substantial EMI filtering.
Metered output volt and amp.
Voltage and current adjustment.
Input Circuit breaker.
Military circular connectors for all inputs and outputs.
Self contained DC fans.
Provision for slides.
Full diagnostic capabilities with visual
indicators for UV, OV, OT and overheat.
Compare
Compare
Description
Models
Specifications
Available Options
Data Sheets
Description
The HPRM Series is a rack mount, high power, 10kW, programmable switching power supply. Since its introduction, the HPRM series has evolved into one of the most reliable, compact, high performance switching power supplies available. It features excellent performance in demanding high current applications such as RF amplifiers, DC motors and Magnetic Coils. The host of standard features make it an excellent choice for both OEM and laboratory applications. Output voltages include 28 Volt, 48 Volt, 120 Volt and 250 Volt configurations. Please contact us today for a comprehensive price quote.
10kW
| Model # | Output Voltage | Max. Current | |
| --- | --- | --- | --- |
| HPRM-28-350 | 28vdc | 350A | QUOTE |
| HPRM-48-200 | 48vdc | 200A | QUOTE |
| HPRM-120-83 | 120vdc | 83A | QUOTE |
| HPRM-250-46 | 250vdc | 46A | QUOTE |
Other voltage and current combinations are available, contact us for your exact needs.
ELECTRICAL SPECIFICATIONS:
Input: 120/208 3P 4 wire 47-63Hz
Line Regulation: ± .3%
Load Regulation: ± 1%
Ripple: 1% peak to peak, not to exceed 300mvpp
Efficiency: 88% min
Protection: OV, OL & OT
Hold-up Time: 20 ms min
MECHANICAL AND ENVIRONMENTAL SPECIFICATIONS:
Temperature Coefficient: .02%° C
EMI: Designed to meet MIL-STD-461 with some deviations
Safety: Designed to meet UL 1950
Operating Temperature: -10° C to +50° C
Storage Temperature: -40° C to 85° C
Cooling: External DC fans
Humidity: Up to 95% RH non-condensing
Weight: 105 lbs.
Size: 10.5″(H) x 19″ (W) x 22″ (L)
Low Voltage Battery Disconnect (LVBD) for battery back-up operation.
400Hz Input
Ruggedized for shock and vibration.
Repleaceable external fans.
Oring diode redundant/parallel operation.