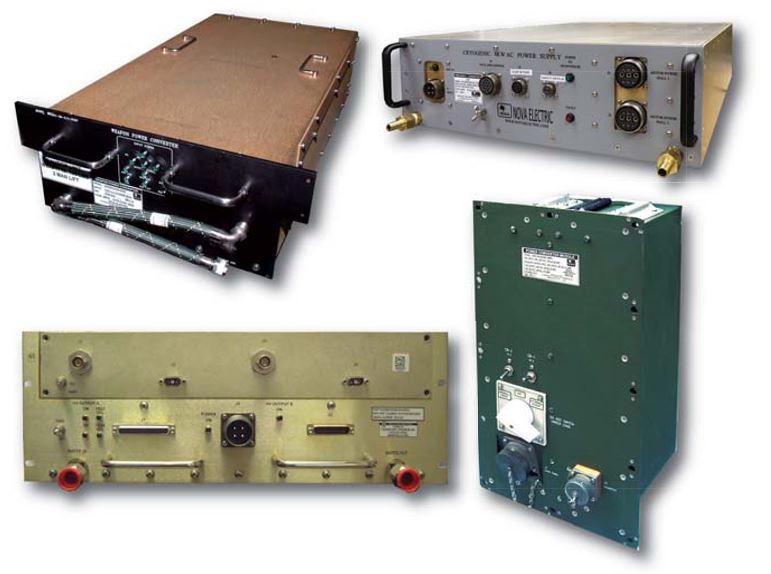 FEATURES
Water-Cooled •  Hot Swap / Rack Mount / Stand Alone
Full Programmability
Single or 3Ø Input
Rugged Construction
Parallel Operation
Soft Switching Min. Output Harmonics
Power Factor Corrected
N+1 Redundant Operation
RS232/485 Compatible
Technology Dynamics Inc. offers a wide range of custom Water Cooled Power Supplies that are designed typically for Military shipboard applications. These robust designs however make them ideal for severe environment industrial applications where forced air cooling is not an option. Water cooled Power Supplies offer an alternative to fan cooled designs where environmental conditions restrict or preclude the use of fans. Water Cooled Power Supplies also have higher power densities than air cooled power supplies.
Available as fully contained stand alone systems or as blind mate modules which allow for Hot Swap Plug-In of the power supply modules resulting in no down time for critical applications. Our Water Cooled Power Supply Products are designed for maximum flexibility, accessibility and modularity in order to facilitate future power upgrades. Custom configurations, voltages and power levels are available, contact us for your exact needs.
ELECTRICAL:
Input: 200 / 400 / 450 / 480 VAC
Output: 24V, 28V, 48V Standard (custom voltages available)
Power: 3000 – 25 KW Watts
Ripple: < 150 mV pk-pk
Efficiency: 90% min. at full load
Power Factor: 0.98 min. (per MIL-STD-1399)
Protection: Over-Voltage,  Over-Current, Over-Termperature
Operating Temperature: 0°C to +50°C (Standard)
Humidity: 0% to 95% non-condensing
Cooling: Water-Cooled, Liquid Cooled
Vibration: Per MIL-STD-167
Shock: 20G 11ms half sine pulses
Operating Altitude: -1000 ft. to +10,000 ft.
Reliability: Exceeds 100,000 hours
MECHANICAL
Construction: Rack Mount, Stand Alone, Hot Swap
Size: Standard 19" Rack Mount (Custom Widths Available)
Height: 3U – 10U Standard, Custom Cabinets Available
Connections: MS Circular Type (Input/Output)    Coolant Connections: Per Customer Spec.
AVAILABLE OPTIONS 
Ruggedization: For High Shock & Vibration To MIL-STD-810 G
EMI Filtering: EMI Filtering to MIL-STD-461 F
Redundancy: ORing Diodes For Redundant Operation
Conformal Coating: For High Humidity Applications
400 Hz: 47-440 Hz
Hot Swap: Auto Insertion Modular Design
Meters: Digital or Analog