US DOD GREEN INITIATIVES AND ARMY "NET-ZERO" INSTALLATIONS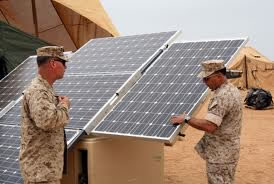 At TDI/Nova/ME, we applaud the US Armed Forces for their initiatives to reduce our dependence on fossil fuels. We strive to make our products smaller, lighter, and more efficient in keeping with US Armed Forces' desire to reduce carbon footprints at installations worldwide. As a result, end users can expect:
Smaller physical footprints for higher space efficiency
Lighter Weight for less energy expended on mobile applications
Higher Efficiency for less wasted power loss during usage
In addition, products are manufactured using renewable energy sources, including the company's 175KW Rooftop Solar Array that supplies our factory's electrical needs.